In response to questions about what camera, etc. I use......
I'm a Nikon girl. It's what I've always used & I'm too invested to change, even if I wanted to. I shoot with a Nikon D700. My favorite lens would have to be my Nikkor 70-200 2.8G, but obviously can't be used in every situation. Same with my Nikkor 85 1.4. Such beautiful lenses, but when I need something wider I have to use the Nikkor 24-70 2.8G. The 24-70 has a great, practical range, but I don't love it. It's not as pretty. I also have a super-wide, a Nikkor 16-35 4G, which can really come in handy & is fun to play with. And then a 50 1.4G, which I use quite a bit, usually for indoor & low-light stuff.
I never use an on-camera flash. But I do use strobes in my garage/studio. I have 2 Profoto & 1 Elinchrom strobes & use a big (5 ft?) Octabox, among other light modifiers. My backdrops are usually seamless paper rolls.
And for post-processing, I use Lightroom & CS5 & a random assortment of actions. I still have so much to learn!!!
And of course I can't do a post without a picture.....
Caroline couldn't decide which hair accessory to wear today.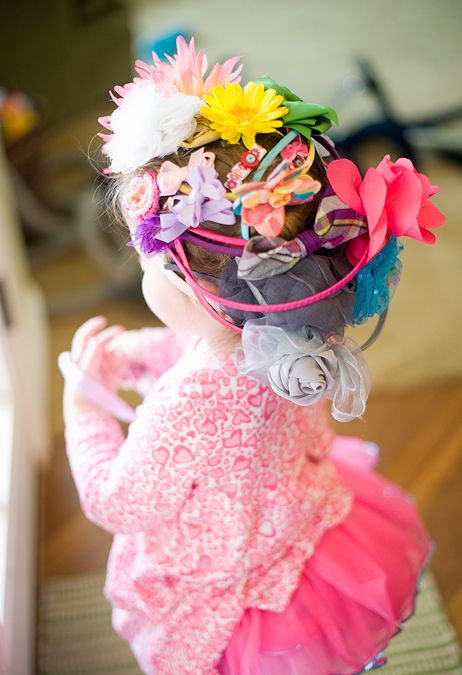 This has been a daily activity as of late.
I've got me a girly-girl and I'm

loving it!