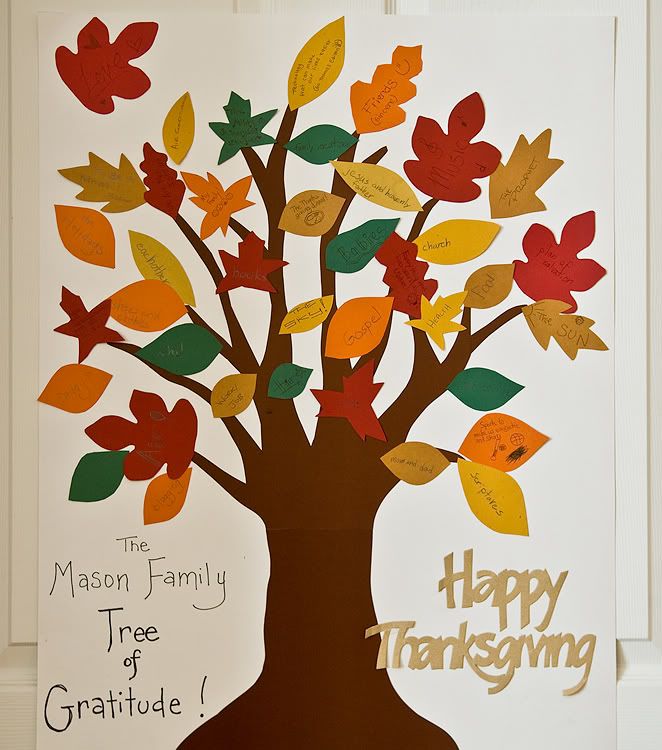 For FHE last Monday we put together our Mason Family Tree of Gratitude (
I copied this idea from Shawni because I can't come up with my own ideas).
We were all SO proud of it when we were finished.
We all stood back & admired it for a while after we hung it up.
Each leaf says something we are thankful for.
And we definitely have
so much to be thankful for!
We could have put a million leaves on that tree, but it was getting late!
The first thing that comes to my mind when counting blessings, would be my beautiful, happy, healthy children & that I am so blessed to be their mother........and the list goes on & on.....
How did I get so lucky?
Some of my favorites on the tree are:
Stores & Community Services (Marlee)
Our pets (Max) - I totally disagree with that one.
That we are not ignorant (Marlee) - What???
Thanksgiving dinner (Jake)
Hair (Marlee)
Blogging (me)
Technology that can make our lives easier - Go Thomas Edison! (Marlee)
Donuts (Zane) "Mom, I'm totally thankful for donuts." Love that kid.
And I totally forgot to add Diet Coke ....
and Twilight that I can't wait to see tomorrow!!!!!