This has been coming for a looooong time.
And it happened on Monday. Because Monday is a special day. It's the day we recover from Sunday. At least around here it is. Everything is at its' most disorganized & messy from a whirlwind weekend of activities, then everyone hanging out at home on Sunday. So Monday is usually a mess.
And last Monday was no different. In between feeding & diapering & changing & holding Caroline and catering to Gus's every need, I was picking up, vacuuming, switching laundry loads, wiping countertops, doing dishes, cleaning the highchair, folding clothes, and putting away countless displaced items. By the time the other kids started coming home from school, things were looking pretty good.
I still hadn't showered. Still in my exercise clothes & had never made it out for a run. I hadn't even checked my e-mail yet. I hadn't done one thing but clean up & take care of my little ones. Now, this is nothing unusual. This is how most of my days go. Some days I can see the beauty in it. Some days I can't. Last Monday was the latter.
I ran to the grocery store, then
decided to go outside & do a little weeding before I start dinner & oversee homework. And while I was out there, I was bemoaning the fact that I probably won't have time to get my vegetable garden going before it gets too hot.
I come back inside about the same time Brian gets home from work. He walks in & looks around & says something like, "Man, it's a mess in here." I look around the room that was in perfect order a couple of hours ago that now looks like a tornado went through it. My entire day's work. For what? For nothing! You know what it is? It's soul-crushing. That's what it is.
Then my entire family witnessed Mom's nervous breakdown right there in the kitchen. Crying and yelling. Yelling while crying. It was bad. But man, I've never seen those kids clean up a room faster!
I'm just so sick of 99% of my time being used up by tasks that are undone within hours, or even minutes, of my doing them! It's pointless! It's insane!
So I'm done. On strike. We'll see how long it lasts.
I love order. And I love cleanliness. But right now I have to choose my sanity.
And because I can't do a post without a picture....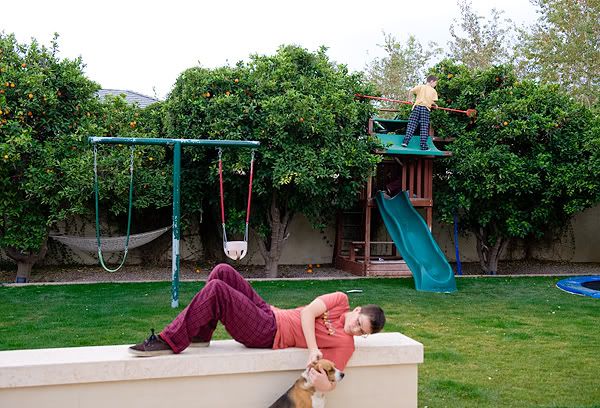 I sent the boys out to pick some oranges. I come out to find this. Not seen, is Zane eating Doritos in the treehouse.