Now that the kids are back in school, I have to get going on blogging about our Idaho trip. Our

Adventures in Idaho

.
I've been putting it off because I took over a thousand pictures during our 2 weeks there & it's completely overwhelming!
So,

about a week after our Coronado trip, we headed up to

McCall, Idaho.
We had never been there before. In fact, we had never even heard of it until we were searching on vrbo.com for a house on a lake somewhere to rent this summer. And we found a great little cabin just outside McCall with a creek that ran through the property. Just our family. In a cabin. For

two

weeks!
The problem is that it's about a 19-hour drive from here.
So we did what we usually do for big driving trips.
I drove up with the older kids, while Brian flies with the youngest kid.
I know that sounds like I get the raw end of this deal, but it actually works out great.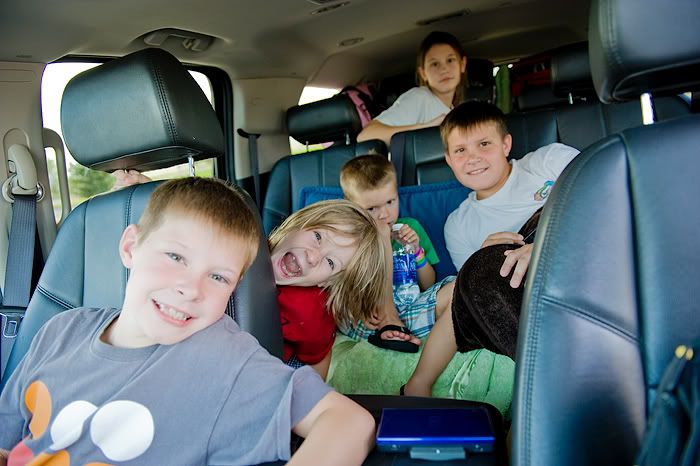 I really don't mind road trips. I think it's fun. Like an adventure. Just me & my older kids, who are more than happy to have hours & hours of unrestricted Nintendo DS time & picking out treats & junk at gas station stops along the way. I just need a big Diet Coke & jordan almonds & cheese puffs.
No baby to deal with. More room in the car without Brian. And we can watch movies, or iCarly DVDs the whole way like we did this trip. And Brian can get in an extra day of work. It works for us.
So we filled our Suburban to the brim, said goodbye to Caroline & Daddy and drove all the way from Mesa to Twin Falls, Idaho in one day. Spent the night in a hotel where I shared a bed with Gus who had to be snuggling with me all night, then drove up to Boise to pick up Brian & the baby, then a couple more hours up to McCall.
And holy cow!!

It's absolutely beautiful up there!
We were giddy driving up to McCall from Boise, seeing how beautiful it is & planning all the fun & relaxing things we were going to do. And Brian realizing that he had two weeks of no work ahead of him, which is the most he's ever taken off.