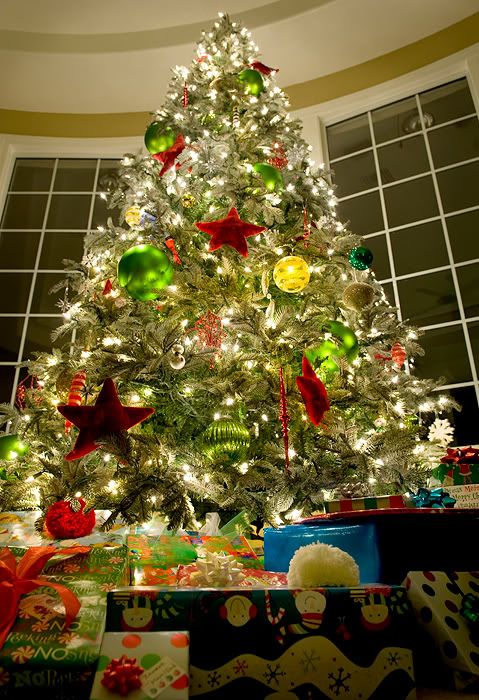 It's so magical, isn't it?
We have a Christmas Eve tradition in our little family.
Bright & early, Brian leaves with the kids for a day out on the town.
They always get breakfast at Matt's Big Breakfast in Phoenix. Then they go see a movie. This year it was Tangled. Then they usually do a little Christmas shopping for me. Get some lunch somewhere. Get a treat somewhere. Basically, they're gone most of the day.
Now, this is usually a smokin' deal for me. Since, if I ever fantasize about anything, it's being home by myself for a length of time. But now we have Caroline. And she needs naps & baby food & stuff, so she stayed home with me. And it's not like I have nothing to do on Christmas Eve day. I have to make our traditional Christmas Eve dinner and the chocolate bundt cake and finish wrapping presents and grab those last few things at WalMart and clean up the kitchen and take a shower......and take care of Caroline.
So basically, I was in hyper-drive the whole day, knocking down cans of Diet Coke, Caroline on my hip, trying to get everything done before everyone came back.
Brian walks through the door with the rest of the kids, thinking he's some kind of hero for going to breakfast & sitting through a movie, and he says things like, "Soooo, have you had a nice time with all of us gone?" And I wanted to open a can of crazy on him.......... now I'm realizing I'm not doing very well with one of my New Year's resolutions, More Wag, Less Bark. Dang it!
Well, anyway, everything turned out
great.
It's our celebration of Christ's birthday.
The dinner was yummy. Chicken roll-ups/crescents, green beans & cherry jello, all the kids' favorites. They love it.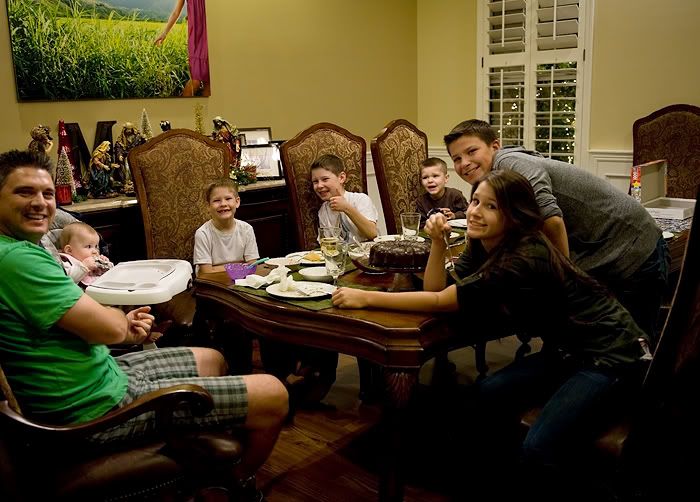 And of course, the chocolate bundt cake, the birthday cake.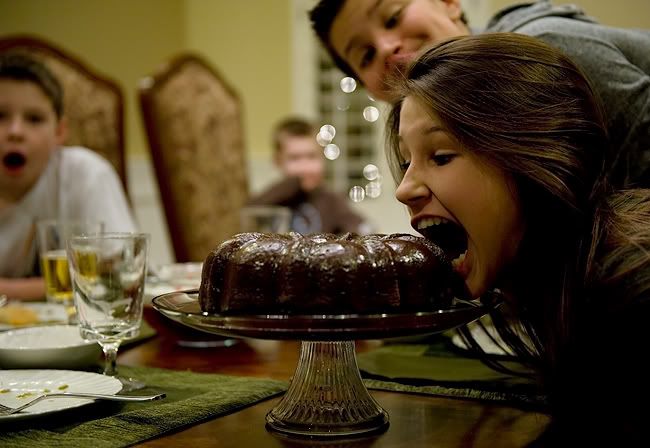 Caroline tried her first chocolate cake.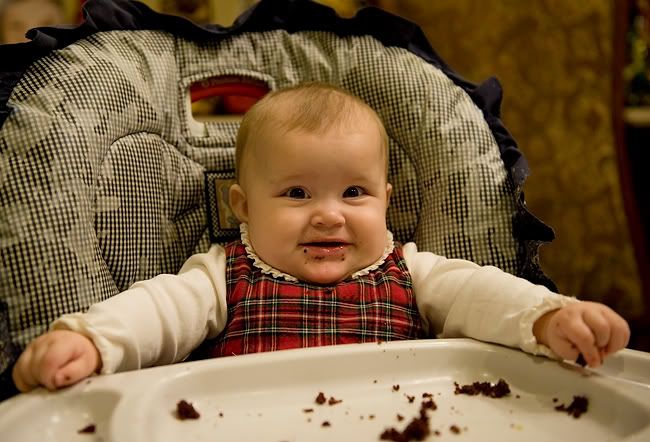 Then the kids open the presents they got for each other, with their own money. It's probably my favorite part of Christmas, seeing them so excited to give their gifts & hugging each other with gratitude.
I thought I was so smart this year talking them into not buying anything at the elementary school's Holiday House so they wouldn't blow all their money on a bunch of junky stuff. Because they can get much better stuff at Target for less money, I told them. What I didn't realize was that I would have to make five seperate trips to Target so they could each pick stuff out without anyone else seeing it. Sheesh!
But anyway, after our dinner party, we go on a little drive to look at Christmas lights, put out some cookies & milk for Santa and carrots on the lawn for the reindeer, check Santa's progress on NoRad a few times, before getting to bed, all of them, in Marlee's room. Then we booby-trap the hallway to catch any sneaker-outers.
It's all so exciting......