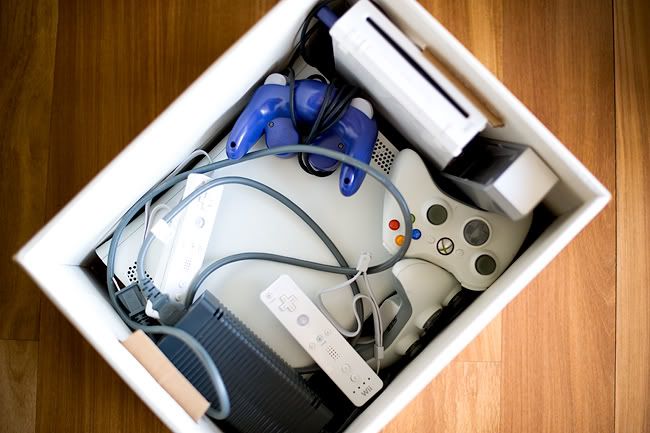 After two weeks of gaming gluttony over the holidays, and a new year upon us, Brian & I decided it was time for some changes.
I was so sick of the video game issue. The constant allure. The fighting. The countless hours spent sitting in front of a screen instead of playing outside. The constant monitoring of it. The fact that my 4-year-old talks of sub-machine guns & grenades.
And it's not just Halo, but all of it.
We've tried all kinds of limitations. Playing only after homework & chores are done. No playing or watching anything after 6:00. But I'm sick of policing it all the time & the fights over someone playing a game that someone else bought with their own money, or someone hogging the Xbox....yada, yada, yada........
I'm done! Fed up. I want them

out of my house.

So they're not even an option.
So we sat the kids down & told them our plan. To pack them all up & put them away. For a long time. So don't even think of asking us when we can get them out again.
It's not like I think video games are evil. It had just become too much of a distraction & point of contention in our home.
Surprisingly, they all took it pretty well. Even Zane. Jake asked if we were going to take away the TV's next. Like Amish people. I said we could be Mormish instead. I'm kind of liking that idea.....
It's been a couple of weeks now & all is well at the Mason Videogame Detox Center. There's more piano practicing & drawing & Lego-building & shooting hoops.
There is still fighting, but at least it's not about games.