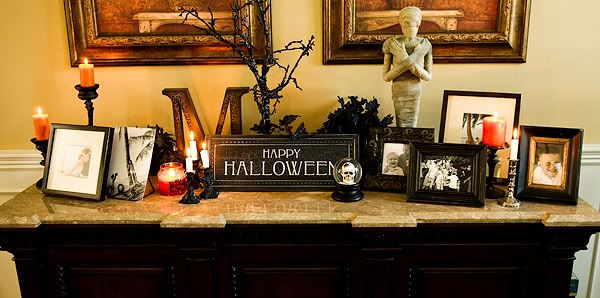 Brian & I are both HUGE Halloween freaks.
We turn our home into a haunted house for Halloween night, we
all
wear costumes (& this year I have a dog I can dress up. Yay!), I buy Halloween hand soap, Kleenex boxes & paper towels.
The Halloween decor goes up on September 1st.
I'm burning the pumpkin spice candles.
I
almost
bought a pumpkin pie at Costco yesterday (but I knew I would eat half of it by dinnertime).
I've even sprinkled store-bought fall leaves on my front yard.
Anything to help along a little autumn feeling here in the desert.
Brian's probably even more psycho about it than I am.
Here he is (right after having Achilles surgery), webbing the haunted house fence that he made from PVC pipe (right
before
the Achilles surgery).
He
so
loves his web gun. It shoots melted glue that looks like real spiderweb. None of that cottony crap for us!! But then I get to clean it up afterward. Not so fun.
We almost bought an old grandfather clock on Craigslist to go in the entry for $50, then we came to our senses.
Each year we add a little more. We're going for authentic, not cheesy or gory, & that makes it hard to find good stuff.
The kids like to brag to their friends that we have the scariest house in the neighborhood, so we've got to deliver!
I used to make the kids' costumes, until I had 5 kids, & before they were old enough to have an opinion about what they wore. Those were the days.....
But I love that the kids love that I dress up. At least the younger ones do. I think the older ones are starting to get embarrassed by it.
So I'm having trouble figuring out what to be this year. I know!! It's already mid-September!!
It's tough, because if you've ever looked at adult costumes, it's about 3/4 naughty this & skanky that! Naughty Little Red Riding Hood, Skanky Snow White, Naughty Heidi of the Alps. Brian's all for it, but I don't know how that would fly at the neighborhood Halloween block party.....
Any ideas???
Here's some past costumes...
June Cleaver
Geisha girl (hugely pregnant with Gus)
Snow White & my Prince Charming. (I don't know why we look so tan!)
I've got to get this figured out. I have alot of haunted house preparations to do!